Cognitive Behavioural Therapy (CBT) Skills Groups
Are you or someone you know suffering from mild to moderate depression or anxiety? Or maybe you are just finding stressful situations harder to deal with than you used to?
We want to help.
The Cognitive Behavioural Therapy (CBT) ​Skills Groups are an 8-week psycho-educational class for adults, aged 17.5 and older. During the pandemic, these groups are conducted via zoom with 15 participants. The groups are designed to teach you practical tools to recognize, understand, and manage patterns of feeling, thinking, and behaving aimed at improving your mental health. 
Designed by psychiatrists and taught by physicians this course integrates neuroscience, mindfulness, and cognitive behavioural therapy skills and concepts.
Use the menu at the top to learn more, refer patients or participate in groups
In response to COVID-19 all of the CBT Skills Groups are now offered virtually.
Read the BCMJ article on Effectiveness and accessibility of virtual Cognitive Behavioural Therapy Skills Group medical visits during COVID-19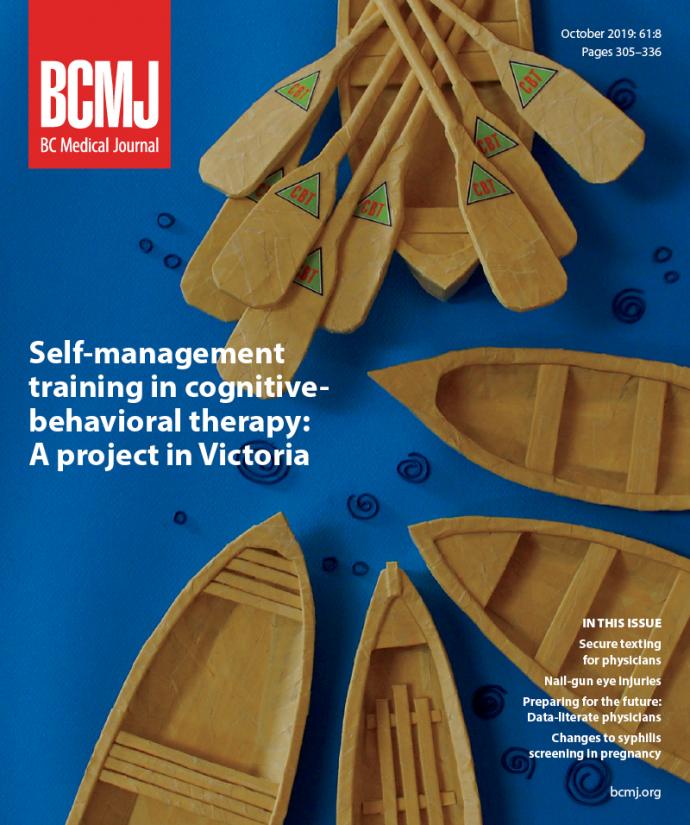 Read the BCMJ article on the success of the CBT Skills Program and find out how it could benefit you and your patients.
Cognitive Behavioural Therapy (CBT) helps you become more aware of patterns of thinking (cognitions), feeling (emotions) and behaving. With awareness, you become aware of ways you can relate differently to your thoughts, or choose intentionally to create new thoughts and behaviours that will better support your mood. Focusing on your present-day life, you experiment with approaching challenges in ways that are more flexible and more likely to bring about positive change.
The CBT Skills groups draw from CBT and from other evidence-based therapies, including mindfulness and acceptance-based therapies, to teach you new ways of working in your life. You will learn about how the mind works, the nature of thoughts, the function of emotions, and the interconnection of thoughts, feelings and behaviours. You will practice various skills that help you remain in the present moment, where you can more often respond thoughtfully and in ways that will be supportive of your well-being. You will be introduced to practices that encourage self-compassion and self-acceptance.
CBT wins 2021 Canadian Collaborative Mental Health Care Award
The CFPC and CPA presents the CBT Skills Group Program the Collaborative Mental Health Care with the grassroots community program award.
Physicians, Support Patients Within Primary Care
The Cognitive Behavioural Therapy (CBT) Skills Group program is an eight-week group medical visit for adult patients (17.5-75 years old) who want to learn practical tools to improve their mental health. Trained physician facilitators deliver these 90-minute group medical visits, with up to 16 patients per group using zoom.